Information about the Photographs

Most of the photographs on this page were shot with a Nikon N90s, FM2n, n8008, or N70. Nikon Nikkor lenses used through out. Bogen tripod used for most shots. Almost all of the photographs were shot with Fujichrome Velvia. Kodak Kodachrome 25 and 200 used on some shots. No flash was used--natural light only (mainly overcast). Some pictures where shot indoors under a skylight. A few pictures were shot with a Yashica T4 Super, point and shoot camera.

About the Photographer

George Bailey was born in Winter Park, Florida on November 29th, 1957. George is a fifth generation Florida native. Becoming interested in art as a teenager, he started taking private lessons in painting at the age of seventeen and has been a painter ever since. Beginning his 23rd year as an artist, George studied art at the Florida School of the Arts in Palatka, Florida before starting his career. During this time he supported himself as a writer, photographer, printer, and computer graphic artist.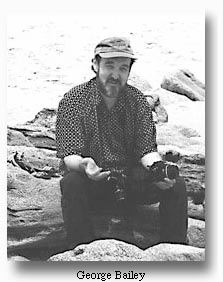 George Bailey defines his art as "realistic and traditional." He has experimented with every medium from airbrush to computer graphics. His favorite medium is oil with photography a close second. George's current paintings feature the Florida landscape, pastoral scenes, animals, and portraits. He executes commissioned portraits for individual clients, and also paints portraits of historical figures, for history buffs.
George started experimenting with computer generated art in 1983. His earliest works were created on an Apple IIe and then moved to the Commodore Amiga in 1986. He would later use this computer to design "TV Graphics" a series of clip art disks to be used in video production. With the demise of Commodore, George has since moved over to the Macintosh for his computer graphic design work. His main computer graphics work is creating graphics and scanning photographs for use in web page design. His services are available upon request.
George has won several awards in the Nepenthe Mundi Society's Emerald City Classic and has his computer art published in computer magazines, Go Amigo and Amiga World.
The artist/photographer/designer currently lives with his family on a 100 acre farm in north west Volusia county, central Florida. He is currently working for Glidden Electronics as a web page designer. Please email him for more information about web design services.

About This Page

The web page is dedicated to George Bailey's nature photographs. George got his first 35mm camera in 1977 and has found it an indispensable tool in his art work, which developed into photo-realistic style paintings of antique cars. Since then, he has become interested in the artistic aspects of photography and the use of the camera as a tool for fine art. This has fueled his interest and love of photography so much, it is hard to tell where the artist ends and the photographer begins!
George uses Nikon camera's and optics. A majority of his pictures are shot on 35mm transparency film. He likes the what-you-see-is-what-you-get look of a color slide. Prints are then made directly from the slide. George primarily uses Fujichrome Velvia, for it beautiful saturated colors, sharpness and contrast. He also likes Kodak Elite II l00, Kodak Kodachrome 25 and 200. He has experimented with other transparency films such as Kodak E100SW, Fujichrome Provia and Sensia II, but prefers the color saturation and sharpness of Velvia the best.
George Bailey has travled widely. His travel photographs can be seen at the Xoom web site. Please go to the Index page of this site and click the travel button with the mountains on it to access this page.

Credits

This page created with Adobe Photoshop and NetObjects Fussion 3.0. Nature images were scanned to Kodak PhotoCD. Other photographs (except digital) were scanned with a Umax S-6E flat bed scanner from enlargements made directly from transparencies.
Site built on a 233Mhz, Mac G3 with 160 megs of ram.